Rikama Education are recruiting international teachers to come and work in Kent. We are currently reaching out to teachers across Europe, Canada and Australia, but will be working across more countries in the near future.
With such a shortage of teachers here in the UK and a shortage of teaching jobs in other countries Rikama Education plan on helping those who are struggling by helping them find work.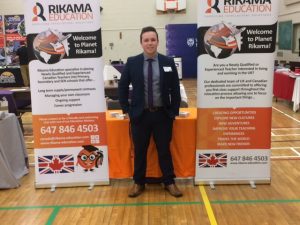 Above is a picture from a job fair we attended in Canada at Western University. Although it didn't have a great turn out we didn't give up there! Our next visit was to York University which had a much bigger turn out. Attending these job fairs, we hope to find teachers to help the crisis in the education industry. Our trip to Canada turned out the be quiet successful and we hope to return soon to help NQT's and qualified teachers find jobs in Kent.
We would like to thank the universities for letting us attend the job fairs, and everyone who turned up and was interested in Rikama Education and what we have to offer.